Have you ever read a book and thought "that was the perfect read for this season of life I am going through?" and wanted to just praise God for sending it into your life at that time? That is exactly how I felt after I finished reading
Educating the Wholehearted Child
by Clay & Sally Clarkson.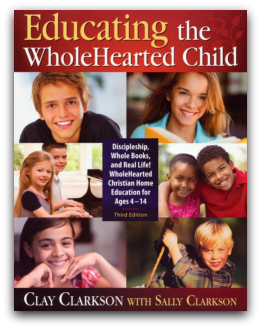 Educating the Wholehearted Child
is published through
Apologia
and is 376 pages of awesomeness. Through reading this book you will discover how to make your home and family the heart of your children's education. Train your children to become creative, self-directed learners. Enrich life and education with living books. Identify and work with each child's unique learning style. Help your children love to learn naturally as they love to play and gain confidence to teach with practical, commonsense methods. The Clarksons' have written from much experience as they are parents to four children who are all homeschool graduates.
While I have read many homeschool resource books over the past 2 years, this one spoke to me in powerful ways and guided me and encouraged me in things I was really struggling with in homeschooling our children. The book is divided into four sections: Home, Learning, Methods and Living. There is also a postscript section chocked full of valuable resources. Whether you are considering homeschooling, new to homeschooling or a seasoned homeschooler this book contains information that will encourage you, bless you, inspire you and motivate you. Not only will this book guide you toward a Christ-centered education but it will help steer your family to live a life where importance is placed on the eternal things - not the temporal, worldy things. I wanted to share a few of my favorite thoughts from this book with you:
* What we are doing in our homes should be about much more than just educational methodology; it should be about generational theology. (pg. 44)
* God designed the home; man designed the school. God did not forget to include school in His design; He designed the home to provide everything children need to be prepared for life. (pg. 106)
* Your efforts at giving your child the ability to read will be in vain if you do not also give them the desire to read. If you do nothing else in home education, raise your children to love reading. (pg. 212)
* Family is the only institution of Scripture that was created before the Fall. (pg. 269)

Through the Clarksons' writings in
Educating the Wholehearted Child
, they will show you that "your home can become a heart-filling, rich and lively environment where your children will love to learn as naturally as they love to play." I highly encourage you to spend $22 and purchase this amazing homeschool resource through Apologia. We love Apologia products and currently have their entire
elementary Science curriculum
too. I am also going to be attending the
Apologia Live Retrea
t in Atlanta on March 23 & 24 (no better place to be on my birthday, March 24th!).
Disclaimer: I was given a copy of this book for review purposes only as part of being on the TOS Homeschool Crew. No monetary compensation was received.