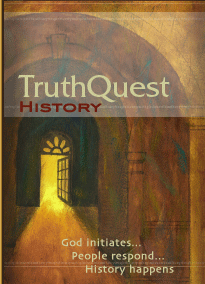 One of my favorite homeschool subjects to teach is History. I love making history come alive for the kids and helping them create timelines to see how it all fits together. However, when it comes to teaching history from a Biblical perspective it can be challenging to find curriculum that fits into our Creationist belief (that God created the world in 6 literal 24 hour days and that one the 7th 24 hour day he rested). Thanks to
TruthQuest History
we are able to teach history that lines up with our Christian beliefs as well.
TruthQuest History
is a deep and rich literature-based history study…but with a difference. You will not learn the story of
mankind
; you will learn the
lovestory
of mankind. You will not focus on the rise and fall of human civilizations; you will focus on the arrow-straight line of God's unchanging existence, power, love, truth, and plan for civilization. You will not simply 'meet the culture' or 'get the facts;' you will probe the truths of history so deeply that your students will be equipped to change their world!
We recently reviewed the
TruthQuest History:
Beginnings (Creation/Old Testament/Ancients/Egypt). This materials is available in both print and PDF formats and we received the print version. It contains 88 lessons (over 300 pages) and includes a commentary to introduce each topic that will be studied, ThinkWrite Questions that help your child internalize key truths they will learn, reading lists organized by grade level and an appendix that gives sample questions that can help you evaluate what the child has learned.
I have to admit that despite a very extensive and complete list of suggested reading books that our local library contained almost none of these books. We went to both the city and county library and only found 2 books from all 3 grades our children would study. I do love how scripture is infused throughout this particular history curriculum. There are scripture chapters that apply to the commentary and teach your kids how the word of God lines up with history. This particular curriculum does not have a set schedule allowing you the freedom to work at your own pace and would work well for those who enjoy the Charlotte Mason method too. I have to admit, while this material lines up with everything we believe Biblically and is a great multi-level material that our whole family could use it is just not something we will continue to use. For those of you who enjoy unschooling or studying the Charlotte Mason method entirely this would work great for you but I am still not to that point in our homeschooling....yet!
TruthQuest History starts at $24.95 for the print edition and $19.95 for the PDF downloads. You can
purchase the materials here
and find out more about TruthQuest curriculums. Check out what other
TruthQuest history curriculum other TOS members used
to see all the great products they offer families.
Disclaimer: I received the Beginnings curriculum for TruthQuest History for review purposes only as a member of the TOS Homeschool Crew. No monetary compensation was received.