Valentine's Day is just around the corner and love is in the air. I wanted to share two of my favorite Valentine's Day memories with you and then I have a little surprise for you too.....
#1. Making homemade Valentine's Day boxes to collect Valentine's cards from friends.
I can remember spending hours decorating shoe boxes with tissue paper and glue, construction paper, cut out heart shapes or stickers and of course glitter was a must! I remember wrapping the tops so that every square inch of my box was covered. Then I proudly took my box to school each year (along with a Valentine's card for each classmate) and came home that afternoon with a box full of cards from my friends and teacher. It was always so much fun to read those and see what kind of cards and sometimes even candy I got!
#2. A Valentine's Day card and a box of chocolates from my Dad.
Once a Daddy's girl, always a Daddy's girl....and I most certainly am a Daddy's girl...even at 35 years old! My Dad and I have a very special and very close relationship. My Mom and I are very close too but I am certainly a Daddy's girl. I will still sit in his lap and get hugs from him and I miss living so far away from my parents now. Each year growing up (and even now that I am grown) my Dad always picked out a Valentine's Day card for us and gave both me and my sister a card and a box of chocolates. The cards were never the same (he picked them out individually) but the chocolates always were so we would trade out what we liked and didn't like with each other. Years before I had a boyfriend (and now a husband) to make Valentine's Day special, I had a Dad that made Valentine's Day special for us and took that day to tell us how much he loved us and how much he loved being our Dad.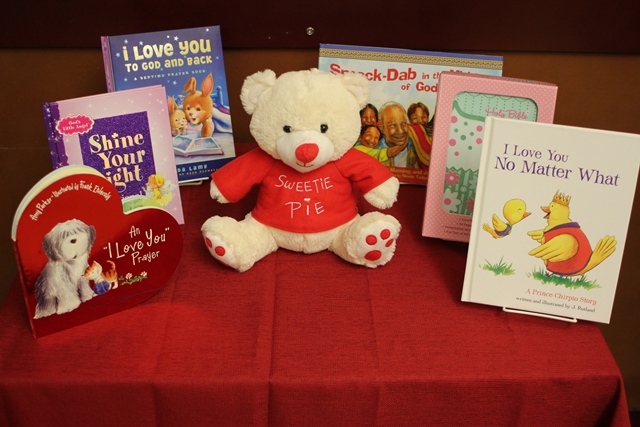 If you don't win the giveaway or you simply prefer not to enter, you can still save 30% off these great books when you
purchase or pre-order them
through Tommy Nelson. Simply enter code
LOVE
at checkout. This offer expires February 15th.
Want a chance to win the Valentine's Day "love-filled" Library (MSRP: $88.94) from Tommy Nelson? Just leave a comment sharing your favorite Valentine's Day memory and for extra entries fill out the Rafflecopter form below.
a Rafflecopter giveaway